So, you put up a website for your IT business. Why aren't people automatically flocking to it and contacting you? It's enough to make some IT business owners question the need for a site at all. Or to stop updating the one that was put up years ago.
You ABSOLUTELY need a website, but you also need virtual road signs to direct people there. Content marketing creates those road signs.
Once people see them from their little corner of the internet, they click a link to learn more, and "boom!" they're on your site where you can close the deal.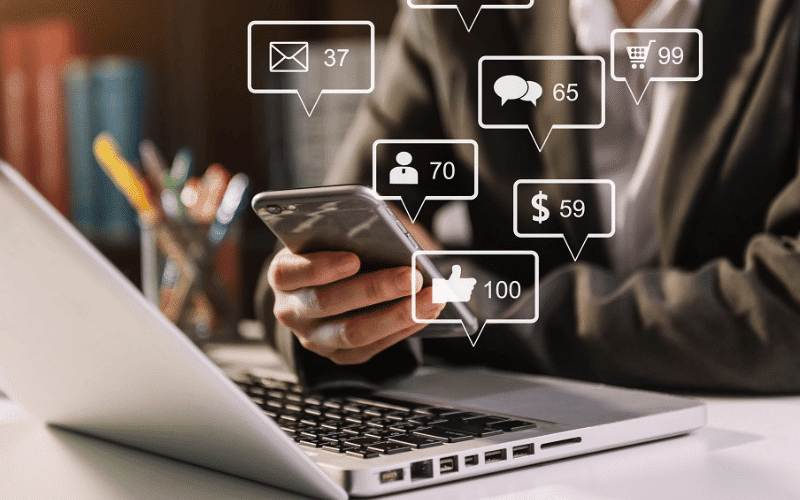 Content marketing is really just "marketing" these days. You must put your name out there where people will see it, and people spend most of their time online from their phones, tablets, and computers.
Think about it. Where is the first place you go when you need to buy something for yourself or your business? Most likely, it's Google. You do a keyword search to check out the options to get what you need.
After all, 49% of B2B buyers search for new products or services online.
So, if you're not concentrating on consistent content marketing, you're likely to struggle to find new leads and customers. Just like any type of marketing, when marketing online, you need to do it consistently. You also need to use a good mix of different mediums.
If you're only using one type of online marketing, such as your IT business blog or social media posts, you're limiting yourself, and your results. Whether you're selling cybersecurity solutions or managed services, you need to reach people in multiple ways.
Remember that old-school marketing tip called the Rule of 7? It states that a business needs to engage with a customer in some way seven times to gain that person's trust enough to convert them to a sale. That's going to be so much easier when you use my magic mix of content marketing!
What 4 Things Should Your Marketing Magic Mix Include?
1. Blog Articles
Posting blog articles on your website regularly does several things for your lead generation. First, a blog article is a foundation for other types of marketing, making them MUCH easier and MUCH faster to create.
Second, you need to boost your profile in Google's search engine. This means your MSP marketing content needs to be keyword based. Sprinkle in the right keywords, and keep putting out good content, and you can see the rewards in increased visibility and site visits.
Some blog writing & keywords tips:
Put out a post at least once per month (don't start with too many too soon or you might give up. Start low and build from there)
Pick topics of interest to your audiences (your company blog should NOT be a bunch of sales pitches)
Always add a call-to-action at the bottom of each blog post (that's where you can direct them to contact you or sign up for services)
Pick a few keywords (3-5), and use them 1-2 times each (do not keyword stuff your blog posts, Google hates that)
Do not use the same keywords every time, make them unique
Use your blog articles as a foundation for other content (I'll explain more in the next section)
2. Google Business Profile
If you haven't already set up a Google Business Profile (formerly called Google My Business), do it now. I mean it. As soon as you finish this article, go set one up!
A Google Business Profile is a must for any local business. Google is largely where people search for local services, and they'll go straight to that "map pack" list that shows up under the map in Google. You have a much better chance of showing up there if you have a Google Business Profile filled out with your address, website, etc.
64% of consumers have used Google to search for local businesses, and 24% of the actions taken from the search page are a direct call to a business.
You can also use it to collect reviews and provide details on your business quickly to people who may be searching via mobile – like when you're open.
3. Social Media Posts
You can't get around the biggest hangouts on the web! Facebook, LinkedIn, Instagram, etc. are where many people spend their online time. They expect to see companies there and get a chance to interact with them.
Social media posts help put a "face to a name" and make your business seem more approachable. You want to be a little less corporate and more human when interacting with customers and potential customers here.
4. Email Newsletter
Email marketing has one of the best ROIs of all marketing methods. It's cheap and easy to do and is a great lead nurturing tool, as well as a way to cross-market products and services to existing clients.
Email marketing has an ROI of $36 for every $1 spent.
One email a month is a good rhythm to get into with your newsletter subscribers. You can always throw in a special sale email from time to time, which is a great way to generate short-term revenue.
Don't abuse your email list or people will unsubscribe, and you'll lose them. Sending this out can be done pretty easily with a service like MailChimp, which is free for up to about 2,500 emails per month.
How To Get Your Marketing Mix Done Efficiently
I know what you're thinking. But, Jennifer, that is so much stuff! How can I find time to do all that and do it every month?
I'm going to tell you my magic recipe.
Set up your Google Business Profile – make sure to fill in your contact details and hours
Write (or contract out) a blog post and post it on your site. Use customer questions to get topic ideas, or follow the tips inside the book "They Ask, You Answer".
Take about 2 sentences from your blog post topic for a social media post, and add a hyperlink to your blog post. Use a tool like Hootsuite to post on all your social pages and Google Business Profile.
Create a newsletter template that you can use each month. Add an introduction (perhaps reuse the blog title!), copy/paste the first paragraph of your blog post, and add a hyperlink to read more. Add a few other areas to your template, like "Customer/Employee Highlight" and a feature of one of your services.
See how one piece of content feeds all the others? Do this once per month until you get into a rhythm, and it is just a normal part of your marketing. When you get to that point, consider adding another blog post each month. Then when you send out your monthly newsletter, you can highlight both posts.
Final Thoughts On Revving Up Your Content Marketing
Good content marketing can bring in leads consistently and make a real difference in your sales. But you need to do it on a regular basis and use the different methods I've mentioned above if you want the best results.